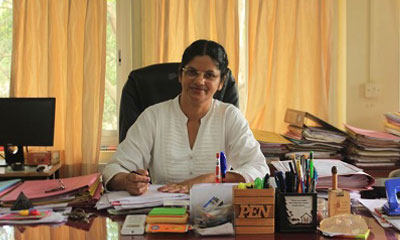 Principal's Message
"Gratitude turns what we have into enough, and more. It turns denial into acceptance, chaos into order, confusion into clarity…it makes sense of our past, brings peace for today and creates a vision for tomorrow." ——— Melody Beattie.
Another Academic Year 2020-2021 will begin shortly. After going through all the fears and uncertainties, we are here blessed by God with good health, an open mind and a heart filled with love and care towards all.
At the very onset, I humbly thank the Almighty for the fruitful Academic Year that have just ended and the glorious 60 Years in the field of Education. We also implore HIS blessings on each one of us this new Academic Year 2023-2024.
Right education sets people up to grow personally, professionally, and socially. It can awaken joy, curiosity and a deep desire to solve problems and help others. Confucius rightly acclaimed that Education breeds confidence, Confidence breeds hope and Hope breeds peace. Learning is a lifelong process of growth and development that empowers us to become empathic individuals, build our self-confidence, learn more about our strengths and address our weaknesses. As Pope Francis says, let us always be strengthened and guided by the Spirit Learning process is important as it results in new knowledge that opens our minds to new perspectives, ideas, beliefs, cultures and solutions. Different perspectives and world views helps in adapting to new and unfamiliar environments, sparks the imagination and aids in tackling unfamiliar challenges. Challenges are what make life interesting and overcoming them is what makes life meaningful.
The NEP is a challenging step we take at this juncture. Access, Equity, Quality, and Accountability are the four pillars that form the foundation of the new National Education Policy. The original 10+2 structure is being replaced by a 5+3+3+4 framework that includes 12 years of education and 3 years of Anganwadi/pre-school. Keeping in mind the recommendations of the National Education Policy (NEP) 2020, the University Grants Commission (UGC) announced the four-year under-graduate programme on December 12, 2022. The four-year undergraduate programme (FYUGP), is adopted in all higher education institutions this academic year 2023-2024.The students now have the option to pursue under-graduate courses either for three years or four years. Students who have already enrolled and are pursuing a three-year under-graduate programme as per the existing Choice Based Credit System (CBCS) are also eligible to pursue a four-year undergraduate programme for which bridge courses will be needed to enable them to transit to the new course model.
Thus, as per the NEP recommendations, the higher education system has to enable an individual to study one or more specialized areas of interest at a deep level and also develop capabilities across a range of disciplines, including sciences, social sciences, arts, humanities, languages, as well as professional, technical, and vocational subjects with revision of the CBCS to instill innovation and flexibility, for which, UGC has developed a Curriculum and Credit Framework for the Undergraduate Programme (CCFUGP).
CCFUGP provides for holistic education that permits students to experience courses from multiple disciplines through a three-year or four-year under-graduate programme with multiple entry and exit options, flexible degree options with single major, double major, multidisciplinary/interdisciplinary education, integration with vocational courses, internship, skill and ability enhancement courses.
A word of Appreciation to PTA, Alumni and all the stakeholders of our institution. We look forward for your support to move forward pursuing our goals. May Almighty continue to bless the Management, every stakeholder of the College and specially the Diocesan Society of Education and The Archdiocesan Board of Education (ABE).
May our Patron Saint continue to intercede on our behalf and may this Academic Year 2023-2024 be a grace-filled experience to all of us.
Prof. (Dr.) Blanche Mascarenhas
Principal